Develop eco-friendly technologies, improved cultivars: Experts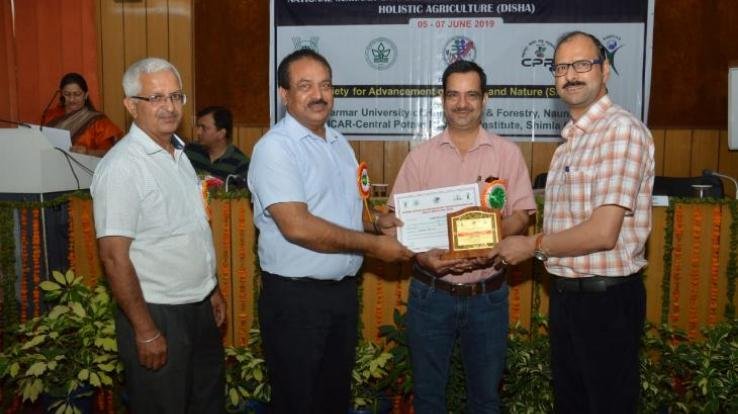 The three-day 'National Seminar on Doubling Income through Sustainable and Holistic Agriculture (DISHA)' concluded at the Dr. YS Parmar University of Horticulture and Forestry (UHF), Nauni on Friday. The seminar was jointly organized by the Society for Advancement of Human and Nature (SADHNA), Solan and UHF Nauni with the Indian Council of Agricultural Research and the Central Potato Research Institute, Shimla as technical collaborators.
The seminar saw highly successful deliberations on various topics and 218 abstracts were received. The participants covered a wide range of topics through poster and oral presentations. Several new crops, technologies and tools for production, protection and dissemination of technology were presented and discussed in the technical sessions of the seminar.
There was a consensus among all the scientists on the need to develop eco-friendly technologies and improved cultivars. Many presentations also emphasized on the need to diversify through new crops and value addition. In addition, there were several new ideas for reducing the cost of farm inputs, plant protection, reduction of post-harvest losses, improvement of market access and infrastructure for enhancing farmers' income. Exciting presentations on nutritional quality enhancement and innovative products were also given by the participants.
Founder of SADHNA Sh. Roshan Lal was the Chief Guest for the valedictory session of the seminar. While congratulating the participants, he spoke about the journey of the society and the work done by it in the field of education to the underprivileged. Dr. Amit Vikram presented the report of the seminar. Dr. Rakesh Gupta, Advisor of DISHA shared that the society has grown to over 2000 members from all over the country in a short period. He hoped that the recommendations coming out of this seminar will be received positively by the policymakers, researchers and other stakeholders and can play a role in developing sustainable agriculture and improving farmers' income.
Nine research papers; six in the oral and three in the poster category were awarded under various categories. Dr. Rakesh Sharma, MS Kanwar, Urvashi, Preeti Sagar Negi, Vipasha and Dhanapriya were awarded under the best oral research presentation category. In the poster category, research papers presented by Pooja Bhardwaj, Debasis Golui and Sakshi Sharma bagged the award.