GNA University Organised a Webinar on Entrepreneurial Journey: A Dream to Reality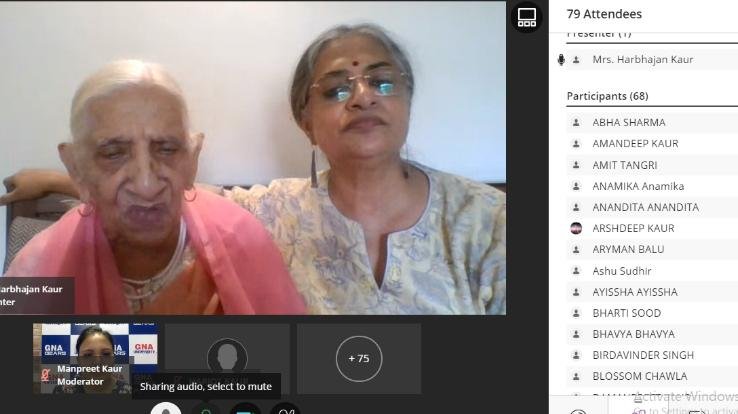 GNA University organized an Interactive Session on Entrepreneurship and Motivation with respect to the entrepreneurial journey of a renowned entrepreneur for all the students of GNA Business School via the Online Platform, Blackboard. The esteemed resource person for the Webinar was Mrs. Harbhajan Kaur, a 94 year old successful woman entrepreneur and the founder of Harbhajan's Made With Love (Besan Ki Barfi). The revered resource person has served as a epitome of hard work and the fact that age is no deterrent to one's dreams.
The webinar started with the welcoming of the resource person by Ms. Neetu Mahendru and Dr. Manpreet Kaur, Assistant Professor, GNA Business School. Mrs. Harbhajan then shared about her journey with the students and faculty members and her key principles and values that she follows in her business. She explained about how the idea of Besan Barfi evolved into her mind and how slowly she diversified her business while the interaction with her daughter Mrs. Raveena Suri. Not only barfi, but today Mrs. Harbhajan diversifies in many other products such as pickles, traditional sausages. The session then ended with a Vote of Thanks by Dr. Sameer Verma, Dean- GNA Business School wherein he expressed his sincere thanks to Mrs. Harbhajan Kaur for taking out her precious time and interacting with the students. S. Gurdeep Singh Sihra, the Pro-Chancellor, GNA University expressed, "I appreciate the endeavours of the Department for organising such trending lectures for the students of GBS." Dr. VK Rattan, the Vice-Chancellor, GNA University said, "The University is always ready to offer the best to our GUites in all the various upcoming spheres." Dr. Monika Hanspal, Dean Academics, GNA University said, "I am really happy to witness the active participation of the faculty एंड students in these Guest Lectures.