Himachal Pradesh's Revolutionary Green Budget: Balancing Economic Growth with Ecological Preservation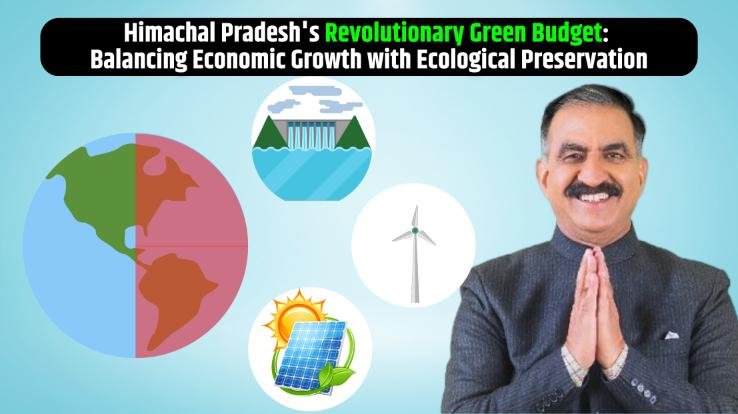 Himachal govt under CM Sukhu during the budget session has recognized the importance of adopting sustainable practices to protect its environment while meeting its energy needs. The state government's target is to transform into a green state by March 31, 2026. The state's recent budget indicates a major shift toward a more green and sustainable approach. As a result of these efforts, Himachal Pradesh can emerge as a model green energy state in India, showing how a commitment to sustainability can promote economic growth while also protecting the environment.
---
Major policies for a green state in the latest budget:
Hydro-electric and solar energy project of more than 1500 MW goal for FY 2023-24. Two green panchayats intend to be formed in every district of HP. This will make energy more affordable and the problem of electricity shortages will be reduced. To build a "model state for electric vehicles," HRTC diesel buses will be converted to electric buses. This year, the "Green Hydrogen Policy" will be formulated, and local Himachalis can get up to 50% in subsidies to install solar power plants, charging stations, and purchase new electric cars.
---
HP's potential path for carbon neutrality:
Himachal Pradesh has the potential to generate over 28,900 MW of clean energy via hydro, solar, and wind energy, which can produce clean energy while maintaining ecological balance and social issues. (Ministry of New and Renewable Energy). Despite being a hilly state, Himachal has a great opportunity to convert available resources into clean energy that can meet around 14% of the state's energy needs. In addition, Himachal has several well-established government-funded and private universities, providing an excellent opportunity for R&D work in the field of green energy. Lastly, advancing toward an ecologically sound, green energy future can show leadership and will set an example for other states and nations by demonstrating the feasibility and benefits of the shift. These factors combined make Himachal an ideal choice for becoming a green energy state, paving the way for a less polluted, self-sustaining, and providing sustainable model for other states.
---
Challenges for Himachal in becoming a "Green Energy State":
Several problems can restrict Himachal Pradesh from becoming a green energy state. Being a hilly state, Himachal has limited potential for solar energy given that large-scale solar farms require an extensive size of the flat territory. In addition, the natural conditions provide a decent quantity of sunlight but in a limited area, and in addition limited solar energy can be turned into light during the monsoon and winter seasons in the majority of the area. Furthermore, hydropower advances necessitate the large-scale relocation of locals. As a result, various pushbacks have been reported in some areas. Most importantly, the state government's existing cumulative debt is very high, with limited income production capacity due to the majority of government funds being spent on social and general services. These factors, when coupled with financial strain, may pose major challenges to Himachal Pradesh's shift to a sustainable and green energy state. The following are major challenges:
The cumulative debt of Rs. 83,789/- Crs on the state govt.

Significant budgetary allocations to public and social services.

Due to limited green energy resources, the likelihood of a green energy state is low.
---
Possibility to become a green energy state till 2026:
Himachal Pradesh has several advantages that make it a perfect fit for turning into a green state. Based on government reports, Himachal has the potential to produce approximately 56.5 Gigawatts of green energy. However, the state's electricity demand in 2021 was 400 Gigawatts. Since power demands rise year after year, the state government must consider further options in this area. Among them is hydro energy, whose policy will be developed this year and will require intensive R&D to achieve the same significant relief in the power production sector. In particular, promoting the development of locally sourced clean energy to enable villages, cities, and towns to become self-sufficient. The current administration has made major attempts to attain "Green state status". However, becoming a green state in such a short frame doesn't appear possible.