Natural Farming can help to realize the goal of doubling farmers Income: Subhash Palekar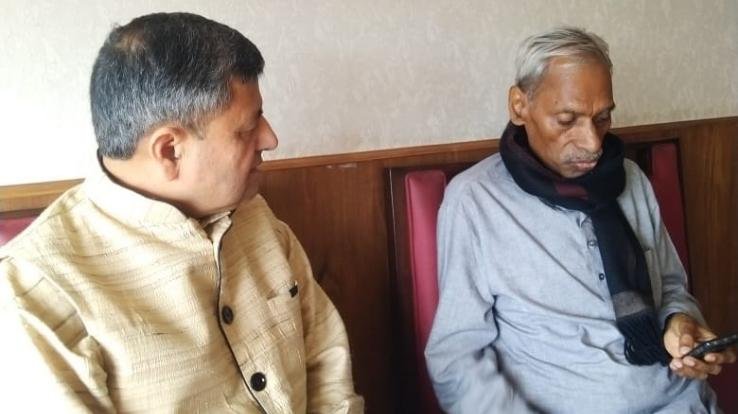 Adoption of natural farming can substantially increase the farmers' incomes and help to realize the goal of doubling farmers income. Natural Farming expert Subhash Palekar expressed these views at the meeting with Dr Parvinder Kaushal, Vice Chancellor of Dr YS Parmar University of Horticulture and Forestry (UHF), Nauni. The meeting focused on promoting the natural farming technique in Himachal so that the farmers of the state can reap rich dividends through minimal input cost.
Subhash Palekar, a native of Maharashtra, has been advocating his natural farming model with no external inputs of any sort for around 20 years. He worked extensively on this area in the tribal belt of Maharashtra. This model was rechristened as 'Subhash Palekar Natural Farming' last year. The model has found favour in several states including Himachal where thousands of farmers have been trained in this farming model under the state government's 'Prakritik Kheti-Khushhal Kisan' programme.
During the meeting, which took place at Solan on Saturday evening, Padam Shree awardee Subhash Palekar said that farmers must get the right prices for their produce and natural products can help to fetch handsome return. He exhorted that the adoption of natural farming will lead to the easy availability of natural and healthy food to consumers and will reduce the overdependence on the use of chemicals in agricultural activities thereby reducing the input cost. He added that loan waiver was not feasible and is leading to dependence and instead efforts should be made towards sustainable loan liberation.
The farming model recently received a major boost when Finance Minister Nirmala Sitharaman in this year's Budget speech mentioned the method as one of the innovative models through which farmers' income could be doubled by the year 2022. The Food and Agricultural Organization of the United Nations has also recognized this farming model and has dedicated a chapter on it in its profiles on Agroecology.

Palekar said that natural farming was also environmental friendly while both chemical and organic farming besides being expensive also release greenhouse gases on large scale causing environmental pollution. He said that industrialization, chemical and organic farming were the major contributors to global warming. He shared examples of farmers from Himachal who had benefitted from switching over to natural farming. Subhash, an apple orchardist from Rohru had nearly tripled his apple production since switching over to natural farming two years back. Tapeshwar Mahantan from Jubbal has also experienced similar results in his orchards. Over 100 vegetable growers from Basantpur have been engaged in natural farming through the government-sponsored programme.
Dr Kaushal assured him that the University will make efforts to promote the natural farming system among the farmers of the state by establishing model points at the Krishi Vigyan Kendras located in various location in the state for systematic propagation of natural farming practices. Besides the university has already established a natural farming experimental block and fruit block at the university campus.