Nauni varsity looks to expand international linkages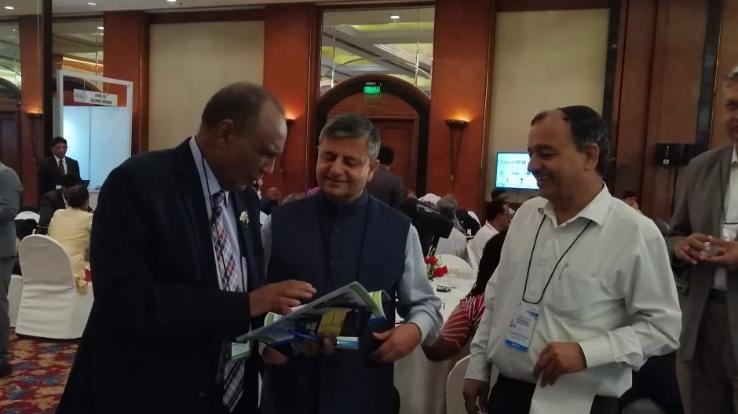 University's team meets delegation from 17 African Nations
The Dr YS Parmar University of Horticulture and Forestry (UHF), Nauni has set sights on achieving working international collaborations in the field of horticulture, forestry and allied disciplines to broaden the learning environment of students and faculty working in the university. The move is part of the university's initiative to strengthen its global linkages and partnership in order to achieve its goal of competing with the leading institutions of repute in the field.
As part of this initiative towards forging new partnerships, a three-member team of the university lead by Vice-Chancellor Dr Parvinder Kaushal attended the India Africa Higher Education and Skill Development Summit held at New Delhi earlier this week. The summit was organized by Confederation of Indian Industry (CII), and was attended by over 75 delegates from 17 African countries. Several university and institutes from India also took part in the event.
Besides Dr Kaushal, the UHF team also included Dr Rajesh Bhalla and Dr Kulwant Rai, who held discussions with the delegates from several African countries and discussed the possibility of a formal tie-up for collaborative research, student and faculty exchange. Several countries including Ghana, Ethiopia, Nigeria, Kenya and Sudan showed keen interest in developing an alliance with the university for agri-horticulture, forestry and allied disciplines.
"International linkages are key to the development of any institution and the university has decided to strengthen this area and forge new international partnership. The major areas for collaboration will be in the area of academic and research and students and faculty exchange," said Dr Kaushal.
He added that UHF received a very positive response in the summit with representatives from most countries showing keen interest to collaborate with the university.
"The university will soon be getting in touch with the embassies of these countries in India for signing Memorandum of Understanding for collaborating in our many areas of expertise. The university will welcome any foreign partnership as it not only allows us to showcase our skills and expertise but also gives valuable exposure to our scientists and students. Further, to usher in a new era in international academic and research collaboration, the university will look to start certificate, diploma and degree level vocational courses and need-based region-specific international programmes to cater to the specific needs of any foreign partner" said Dr Kaushal.
The university delegation also met the representatives from the National Skill Development Council and discussed the possibility of funding support for vocational courses. The NSDC members were of the view that funding support can be provided for trainer's training with scope for introducing subjects of Horticulture and Forestry as skill development ventures