Parthenium eradication campaign at UHF, Nauni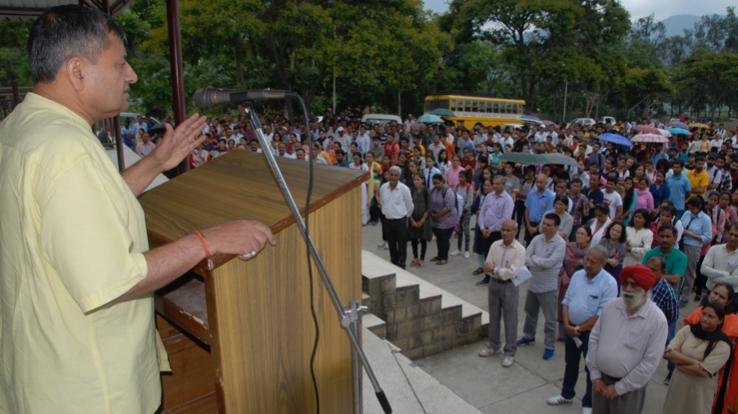 A parthenium eradication campaign was organized at the Dr YS Parmar University of Horticulture and Forestry (UHF), Nauni on Friday. The Department of Environmental Science and the Estate Office of the University organized the event under the Swachh Bharat Abhiyaan. All the university students, faculty and staff took part in the drive.
To undertake the drive, the staff and students were divided into nine teams with each group assigned the task of removing parthenium from different areas of the university. The drive was carried out under the watchful eyes of group facilitators and field guides. The proper disposal of the uprooted weeds was ensured by the disposal team.
Addressing the gathering of staff and students, Dr Parvinder Kaushal, UHF Vice-Chancellor said it was important to organize such events along with tree plantation drives because they were important to conserve the biodiversity. He asked the university staff and students to focus on the removal of the weed throughout the year. Dr Kaushal urged the university scientists to conduct further studies for the complete eradication of this weed. Dr JN Sharma, Director Research of the university also spoke about the impact of parthenium on biodiversity and agricultural production. Earlier Dr SK Bhardwaj, Professor and Head, Department of Environmental Science gave an overview of the programme and the need for the eradication of the parthenium weed.
Parthenium weed is considered to be a cause of allergic respiratory problems, contact dermatitis, mutagenicity in human and livestock. Owing to this weed's aggressive growth, it leads to the reduction in crop production and threatens biodiversity.