Malala ... She is the Hope for Many Girl's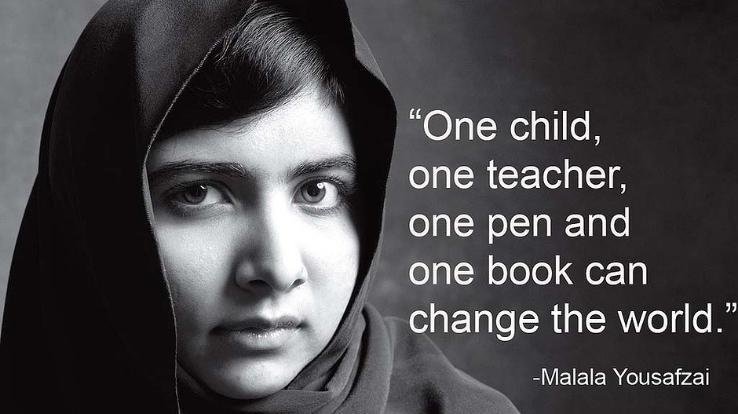 Her name is the synonym for courage, her name is the synonym for determination, her name is the synonym for fearlessness and her name is the synonym for nerve. She actually need no introduction, she is Malala. The youngest ever Nobel Peace Prize receiver and Girl's Education Activist. In words of Malala "I tell my story not because it is unique, but because it is the story of many girls." Today is her birthday and today is the day of hope for ton many girls like Malala, today is Malala Day. First Verdict salutes Malala for her contribution in attracting the attention of world on situation of girl's education, particularly in Pakistan and Taliban dominant areas.
The Journey of Malala
1997 - Malala Yousafzai was born in Mingora, Pakistan on July 12, 1997.
2008 - Taliban took over Swat Valley and Malala had to left her school after Taliban threat.
2008 -Malala Yousafzai was only 11 years old when she blogged for the BBC about living in Pakistan and girl eduction n Pakistan.
2012 - Malala publicly spoke out about girl's right to Education. As a result she was shot in head by Taliban Gunman, but fortunately survived.
2013- Malala was nominated for the Nobel Prize in 2013 but did not win; she was renominated in March 2014.
2013 - On 12 July 2013, Yousafzai's 16th birthday, she spoke at the UN to call for worldwide access to education. The UN dubbed the event "Malala Day."
2013 -On October 10, 2013, in acknowledgement of her work, the European Parliament awarded Yousafzai the Sakharov Prize for Freedom of Thought
2014 -In October 2014,Malala Yousafzai became the youngest recipient of the Nobel Peace Prize. She was awarded the Nobel along with Indian children's rights activist Kailash Satyarthi.
2017- In April 2017, United Nations Secretary-General Antonio Guterres appointed Yousafzai as a U.N. Messenger of Peace to promote girls education.
2017- Yousafzai was also given honorary Canadian citizenship in April 2017. She is the sixth person and the youngest in the country's history to receive the honor.