2 Day intra departmental talent hunt cum youth festival competition organized by GNA University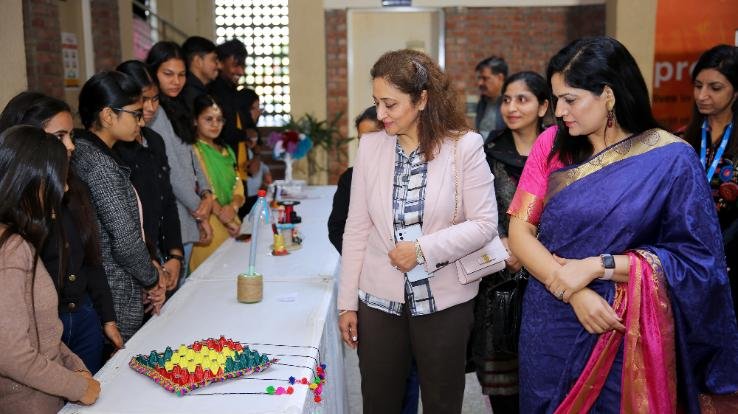 GNA University organized a 2 Day Intra Departmental Talent Hunt cum Youth Festival Competition for its UG & PG Students. The event was coordinated by Mr. Gaurav K. Mangar and Ms. Sarbjit Kaur. More than 230 students of the department took part in this competition. The main objective behind organizing this vibrant event was to discover the hidden talent amongst the students and to expose out the same towards healthy competition. This talent hunt included a blend of 11 events and activities such as Declamation, On the Spot Photography, Best out of Waste, Commerce Rangoli, Group Dance, Treasure Hunt, Poster Making, Singing, Solo Dancing, Ad Mad Show, and Creative Writing. These events included participation on an individual and team basis.
The judges appreciated the talent of the students and lauded them for the efforts put in by them. The Valedictory Session was inaugurated by the benign presence of the Honourable Chief Guest, Ms. Jasleen Sihra, an eminent Nutritionist as the Guest of Honour, Ms. Tarveen Kaur who is a motivational speaker, worthy Vice-Chancellor of GNA University, Dr. V.K. Rattan, and Dean Academics Dr. Monika Hanspal. The Valedictory Session witnessed exhibitions of creations by the students in Best Out of Waste, Poster Making, and some of the performances from singing and dancing which were lauded by the Chief Guest.
Certificates and mementos were announced to the winners at the end of the ceremony and a certificate of participation was awarded to all the participants. MBA 1 was declared the overall winner of the talent hunt. Dr. V.K. Rattan at the end thanked the Chief Guest and Guest Honour for making their benign presence into the event and also congratulated the winners. He appreciated the efforts of GNA Business School and Dr. Sameer Verma, Dean- GNA Business School for organizing such a wonderful event. Thus, the competition concluded on a splendid note.
Mr. Gurdeep Singh Sihra, the Pro-Chancellor, GNA University expressed, "I appreciate the endeavors of the Department for organizing such trending and enthusiastic events for the students." Dr. VK Rattan, the Vice-Chancellor, GNA University said, "The University is always ready to offer the best to our Guides in all the various upcoming Spheres." Dr. Monika Hanspal, Dean Academics, GNA University said, "I am really happy to witness the active participation of the participants in such events of their talent and skill enhancement."