CM Sukhu addresses Himachal's environmental issues during the budget session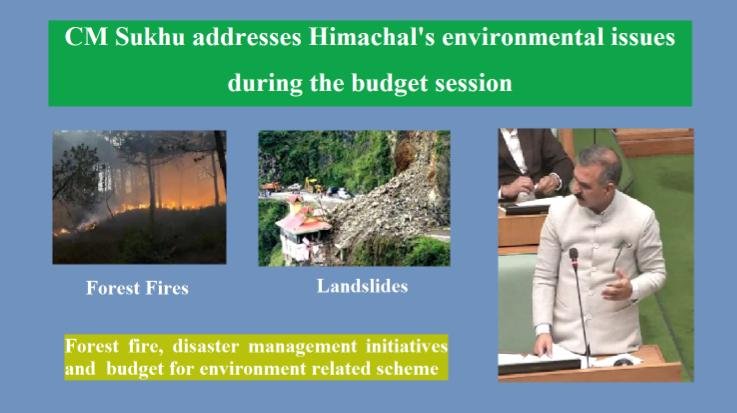 CM Sukhu while discussing environmental issues during the budget session stated that "Himachal's forest wealth is around 65% of the state's area" which is one of the highest among Indian states percentage-wise. Additionally, he mentioned that pine forests are the area most commonly affected by forest fires. The Forest Department has worked to minimize the number of fires during the summer season, which has helped reduce the number of fires.
State's CM also shed some light on the multidimensional hazards faced by the hill state of Himachal. As per the High level, committee organized by the state govt earlier, 33 hazards are recognized which can occur in the state, out of which Himachal is affected by 25. CM Sukhu also stressed climate change and other anthropogenic activities can accelerate and worsen these hazards.
---
State government initiatives to lessen environmental risks:
For fire-prone areas: Construction of fire lines and water reservoirs, recruiting fire watchers, and conducting awareness drives.

For landslide-prone areas: Disaster response teams for assistance during dangers.
---
Opposition on Fire-watcher issues and CM response:
Shri Lakhanpal (Opposition MLA) stated that there is an issue with the Fire-watcher number and their salaries are also delayed for extended periods of time. In response, CM Sukhu said Fire-watchers are essential in reducing fire incidents and that they were previously referred to as Rakhas by locals. He also assured that the Fire-watcher's salary would be paid on schedule and that a policy will be developed in this respect. He also made sure to hold a meeting with the forest department in this respect to address the problem of the required number of fire watchers as well as whether this service must be continued or not.
---
Budget allocation for environmental and associated programs for FY 2023-24:
State govt Contributions:
Fire-incidence reduction fund: Rs 2.14 Cr under FMS state plan and Rs 4.07 Cr under CAMPA head.

Disaster relief Fund: Rs 226.51 Cr.

Fasal bima yojana, Crop diversification scheme, Mandi arbitrage fund, and Horticulture development project: Rs 208.42 Cr.
Central govt contribution (proposed):
NDRF fund for disaster management: Rs. 400 Cr.

Swach Bharat Abhiyan: Rs34.47 Cr.

Gram Swaraj Yojna (for rural upliftment): Rs. 43 Cr.