Can Cheetah thrive in India once again?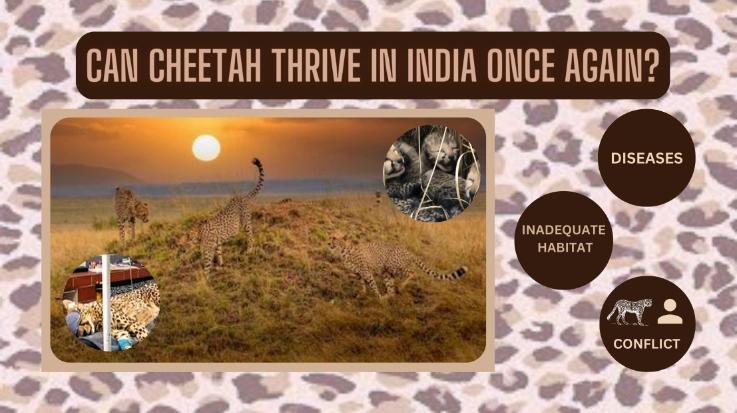 Following the birth of two Cheetah cubs in March to parents Siyaya and Freddie in India, which were translocated from Nambia (South Africa) to the Indian national park Kuno (India) in September 2022. The world is watching to see if the Cheetah can thrive in India again after its extinction in the 1950s caused by overhunting and poaching. In February, 12 cheetahs were relocated from South Africa to India to introduce 50 cheetahs from various African countries into several Indian national parks as part of "Project Cheetah."
First Indian Cheetah conservation specialist P Giradkar said, "Cheetah is the only animal in recorded history to become extinct from India due to unnatural causes. Therefore, scientific studies on the ecological interaction between habitat composition, habitat quality, and demography of cheetahs and their prey are required to maintain viability," Giridkar told DW. She was satisfied with the birth of cubs and added, "Increases in the number of reproductive events with longevity are key processes that influence annual individual performance that follows multiple generations. Of course, reproductive success depends on phenotypic, environmental, and genetic factors."
---
Key concerns that could hinder the effective reintroduction of cheetahs in India:
Inadequate Habitat area: Experts indicated that the birth of cubs in captivity doesn't indicate the success of the project. The major problem for effective rehabilitation is the appropriate habitat area for the wild cat's natural life cycle. Cheetahs, being solitary cats, require approximately 9800 Km2 for mating and survival.
Wildlife biologist Ravi Chellam also showed concern and said, "India has erred…by bringing the cats much before habitats of adequate size and quality were ready. This prolonged captivity will have negative impacts on the cats. I sincerely hope that we do not import more cheetahs from Africa until we have secure and good quality habitats to host them."
Diseases and health issues: Recently, right before the birth of cubs, a female Cheetah (Sasha) died in captivity of Kidney disease. According to experts, the birth of cubs does not signify project success. Similarly, an individual's death does not reflect failure. However, this death foreshadows upcoming challenges that, if not controlled effectively, could lead to the project's downfall.
Upcoming challenges for the project: The Cheetahs are currently in captivity, but once released into the wild, they will encounter a variety of issues. "Human-wildlife conflict, loss of habitat, prey population, poaching, and illegal wildlife trafficking, with cubs being taken for smuggling into the exotic pet trade" are among the issues.
---