International Conference "CIET2021" organized at GNA University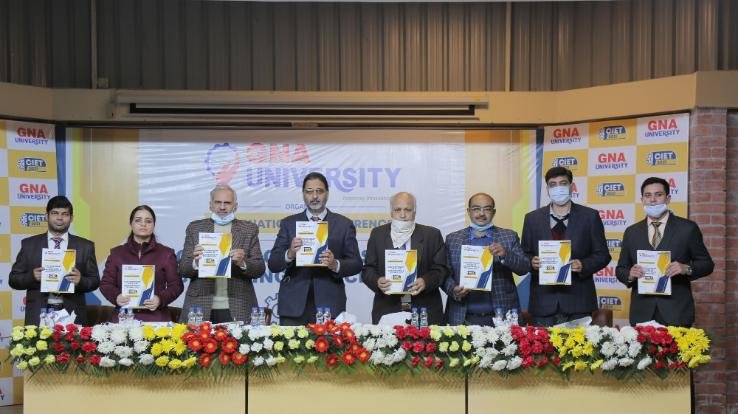 GNA University, Phagwara organised two days Virtual International Conference on "Contemporary Issues in Engineering and Technology" (CIET-2021) on January 08-09, 2021. The researchers, presenters, delegates from all over the globe participated and shared their research work in CIET-2021.
In this two-day International Conference, the world renowned speakers from Romania, Singapore, Japan, Spain presented their Keynote and Plenary addresses. On the first day, January 8, 2021, Dr Manoj Gupta, Professor, National University of Singapore and Dr. Ioan-Cosmin MIHAI, Cyber Training Officer, European Union Agency for Law Enforcement Training, Romania addressed the delegates from across the globe.
Dr. Gupta, in his address mentioned how Magnesium is an abundant element in our planet and in our body and its non-toxicity and lightness (33% lighter then aluminum) makes it eligible for perhaps a trillion-dollar market in engineering and biomedical applications. Dr. Gupta also said, "I am thankful to GNA University for holding up the CIET 2021 in such a wonderful and organised way."
Dr. Cosmin discussed the main types of malware (ransomware, banking trojans, crypto jacking, botnet malware) and the main cyber attacks vectors. He added, So far, 2020 has been a challenging year for everyone. COVID-19 and the push for a more remote workforce have left many organizations vulnerable to the risk of a cyber-attack. Dr. Cosmin in his address felt indebted to GNA University for making striving endeavours in holding up the Conference in the virtual mode.
On day 1, presenters discussed various emerging trends like Cyber Security, Cloud Computing, Data Analytics, IoT etc. during technical Sessions. The Technical sessions were wonderfully chaired by all the stalwarts from the Engineering background.
Dr. Monika Hanspal, Dean Academics delivered the Inaugural address and fully apprised the august gathering about CIET2021.
Dr. Disha Khanna, Deputy Dean Faculty of Liberal Arts in the capacity of the Master of the Ceremony wonderfully upheld the 2 days International Conference, CIET2021.
On January 9, 2021, the second day, Dr. Hiroyuki KAMEDA from Tokyo University of Technology, Japan, Dr. Carlos J. Ochoa Fernández from Spain and Mr. Nitin Malvadkar Director, Siemens Digital Industries Software, Singapore delivered their talks.
Dr. Kameda discussed the role of Natural Language Processing and deep learning in engineering applications. Dr. Fernández in his address said, "Opportunities are available for enterprises when the 4th Industrial Revolution begins to take shape basically are increasing productivity and efficiency, improved customer quality service, faster access to data and value information in real-time and massive improvements in an enterprise."
Mr. Nitin Malvadkar discussed various products available in the market which can enhance learning and industrial experiences and how Siemens is extending assistance to both the faculty and the zealous students.

More than 50 researchers presented their work in five different technical sessions during two days and shared their findings. The sessions witnessed research acumen from the interdisciplinary fields as well.
S. Gurdeep Singh Sihra, the Pro-Chancellor and the Chief Guest, GNA University said, "This International Conference was a long-awaited event. He added, "This will be our annual event from now onwards."
Dr. VK Rattan, the Vice-Chancellor, GNA University congratulated the organizing Team for organizing such a mega event during the unprecedented times.
Dr. Vikrant Sharma, Dean Faculty of Engineering cum one of the Conveners of the Conference offered his Vote of Thanks and passed his in depth gratitude to everyone associated with the Conference in the most desired way.
The 2 days Conference was well planned and organised by the co-conveners, Dr. Anurag Sharma and Mr. CR Tripathi. The whole Team of Engineering along with the other Deans and the Heads attended the Conference and every participant and delegate passed their gratitude in hope of CIET2022 the next year.