Shimla Municipal Corporation Election: Too Early to Predict.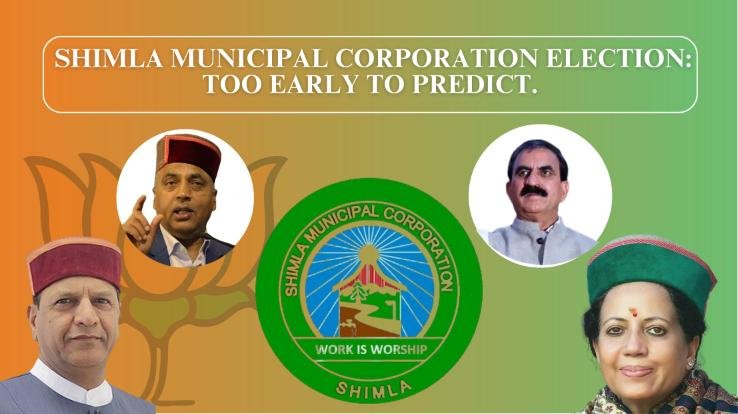 Shimla, Himachal's oldest pre-independence municipality, will vote in municipal elections again on May 2, 2023. With elections approaching, the major political parties, BJP and Congress are extensively pursuing door-to-door campaigns, Nukad sabhas, and template distribution programs at the local level. With the BJP losing the HP state assembly election in 2022 and the Congress taking control Experts believes there is a strong chance for Congress to recapture Shimla MC.
INC, the major political force in Himachal at the moment, appears to be certain of them winning the MC elections. With the momentum of the recent HP Vidhan Sabha election and CM Sukhu emerging as a powerful and authentic figure in Shimla's eyes. Furthermore, three incumbent MLAs, two of whom are cabinet ministers in the HP government, make Congress's chances fancy the forthcoming election. This advantage, however, comes with significant pressure to gain the Shimla region back after a long stretch, or it will be a major loss for the current Sukhu government.
BJP, the former MC victor, is currently aggressively pursuing the campaign program. With significant BJP political faces are expected to visit Shimla's municipal region, demonstrating the BJP's determination to keep its political hold on the Municipal cooperation of Shimla. Additionally, their manifestos have good junctures with 21 announced vade containing guarantees and freebies (water and garbage bill). However, it will require considerable work from both local and state officials to make it happen.
Since, Municipal Cooperation elections are mostly based on local issues, as well as the workability and relationship of the local ward councilor. BJP can give Congress run for the seats for the MC election to be held from May 2nd. Hence, the victory of either of the major parties in the municipal election is too early to predict in the current scenario and MC can go into either of the party's hands.