Battle for Shimla: A Political Analysis of the Upcoming 2024 Lok Sabha Elections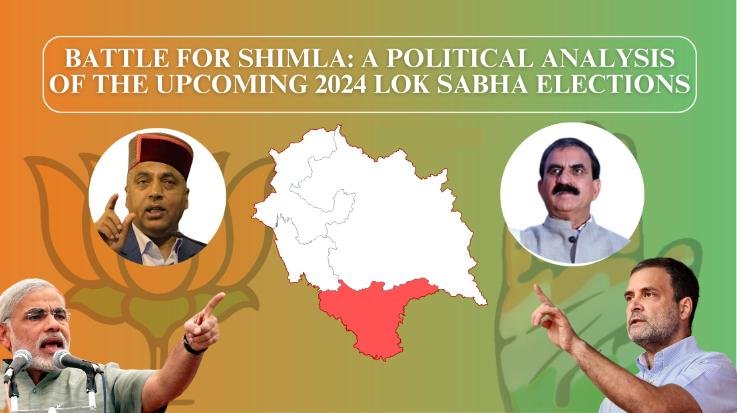 The Shimla Lok Sabha (LS) constituency of Himachal is gearing up for a major political battle in 2024. The parliamentary constituency is a reserved seat (SC) consisting of 17 Vidhan Sabha segments. In the 2019 LS elections, Suresh Kashyap from the BJP defeated Congress veteran Dhani Ram Shandil by over 3.56 lacs ballots.
The 2024 Lok Sabha election for the Shimla constituency is anticipated to be fiercely contested. BJP aims to retain Shimla, while Congress is likely to take the opportunity of momentum created by victory in the recent state election and capture the LS seats from BJP after 15 years of BJP dominance in the Shimla LS seat. As the Congress won 13 of the 17 Vidhan Sabha seats in the recent state assembly elections, experts believe that it indicates a shift in the Shimla constituency's mentality from the BJP to the Congress. However, center politics differs from state politics to a great extent. To begin with, the BJP has stronger central leadership than the Congress, whose face, Rahul Gandhi, is currently involved in a legal tussle over statements he made about the Modi surname during a rally. However, as seen in the recent state election, the Modi effect has faded in Himachal, while Congress showing a significant voter base in the Shimla constituency this time, making the future election unpredictable.
One of the key factors that could determine the outcome of the election is the choice of candidates. BJP tends to surprise people with its candidate selection every time. Potential candidates from BJP can be Suresh Kashyap (MP Shimla), Virender Kashyap (ex-MP), and Rajiv Seizal (ex-MLA). Congress could give the ticket to leaders like Vinod Sultanpuri (MLA HP), Mohan Lal Brakta (MLA HP), or Vinay Kumar (MLA HP). There is also the possibility of Dhani Ram Shandil (Cabinet Minister HP) being positioned for the LS election again. However, there is a likelihood that new faces from both parties, one with substantial support and relevance in the Shimla constituency, would enter the candidacy in the 2024 election. Another crucial factor that could play a significant role in the election is the issue of development, with both the BJP and Congress promising to address issues such as traffic congestion, waste management, and inadequate infrastructure. The battle for Shimla promises to be exciting as political parties prepare for the 2024 Lok Sabha elections. BJP even started its campaigning in January, while Congress put out an attractive state budget to win over voters this year. With both the BJP and the Congress going all out to capture the seat, it remains to be seen who will come out on top in this election.