ENTREPRENEURS VERDICT ON BUDGET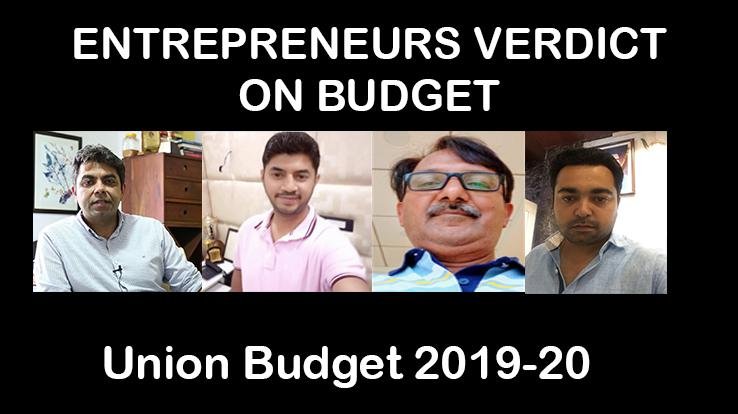 Budget has the Vision to achieve $ 5 Trillion Economy goal - Uday
"Corporate tax with a turnover of up to Rs 400 crore slashed to 25 per cent from a current rate of 30 per cent. It is truly a quality move by the government," says Uday Kapoor, MD, Udayraj Advertisers. He further added "Budget has the vision to achieve a goal of $ five trillion economy. It is a balanced budget and has something for everyone." Kapoor believes that the Budget has given a huge thrust to startups and Make in India. He also welcomed the initiative to give pension to the shopkeepers and traders. According to Uday Kapoor, the Government has a target of Rs 12,000 crore from the hike in the surcharge for the high-income group. This amount can be used in so many development works and it is fine to pull some extra tax from HNI's.
Budget Misses Corrective Measures for the Auto Industry- Anand
"Budget has got a lot to promote electric vehicles like reducing the GST to 5 per cent, an exemption in customs duty on parts and most importantly the Income Tax rebate on the interest component paid for loans taken for purchasing electric vehicles. However, Budget has missed some form of a stimulus package which is much required for the auto industry at this point of time," says Vishal Anand, MD of Anand Toyota. He said, rather than promoting electric vehicles the Government must promote existing automobile industry at this point of time. Increase in fuel prices will also affect the industry adversely and corrective measures are much required to give a boost to the auto industry. Anand further added, Budget is aimed at overall economic development, but it was a disappointment for the automobile industry as a whole, which is presently reeling under a downshift.
It is the Budget with a Vision - Vipul Goyal
According to Vipul Goyal, it is the Budget with a vision; it is a Budget for 130 crore Indians. The budget reflects the roadmap to achieve a target of $5 trillion economy. Goyal says, "Budget replicates the intention to improve the living standard of common people. Provisions like electricity, cooking gas for every rural household by 2022, provision for labour law reforms, construction of nearly 1,25,000 km rural roads, construction of 1.95 crore houses in rural areas by 2021, and 10,000 new farmer producer organisations will directly benefit people, especially the rural population.
It is a below Expectation Budget- Dinesh Verma
Dinesh Verma, Managing Director of Verma Sons Jewellers says, "Budget is not up to the expectations. Government is setting high economic growth goals, that is fine, but there is no clear blueprint to achieve it. The macro picture seems good but how to implement the planning on the micro level is more important." "As expected the government increased the fuel prices which will add to inflation. As far as Jewellery sector is concerned an increase in import duty will adversely hit the industry. It may lead to a decrease in demand", he added.