EXPERTS VERDICT ON BUDGET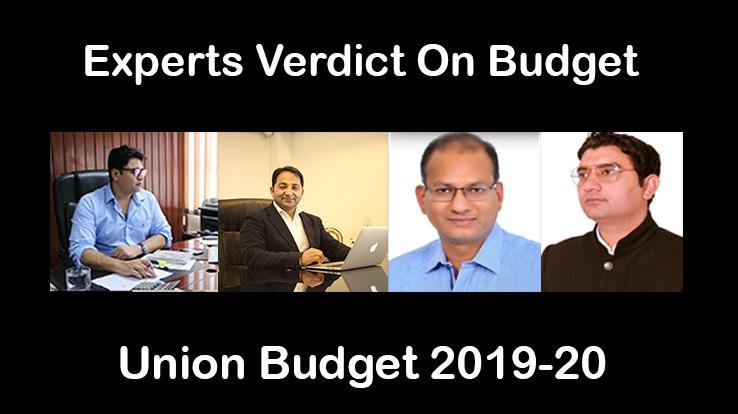 Visionary Budget for Tourism Industry- Bharadwaj
Included amongst the apex travel companies of the country, Colors of India called the Union Budget a visionary one for the tourism Industry. According to the Managing Director of the company, Narendra Bharadwaj "Decision to develop world-class 17 iconic tourism sites will pull domestic as well as inbound tourist. It is a great move by the government." He also appreciates the decision to create a digital tribal repository, in which photos, videos, details of origin, education, lifestyle, skill sets, traditional arts, and other anthropological information pertaining to tribal culture will be stored. Bhardwaj added " These initiatives will also boost the MICE industry " added Mudras.
No reduction in GST for coaching institutes- Bachchan
Mr. Anurag Bachchan, Managing Director of Dronacharya IAS Academy, Chandigarh said that Union Budget 2019-20 has the provision of Rs 400 crore for world-class higher education institutions. The finance minister also announced that the government will launch a 'Study in India' scheme to encourage International Student exchange programs. The idea is simply to attract foreign students to India. However, no reduction in GST has been announced by the Finance Minister for the coaching institutions. Presently coaching institutions fall under the category of 18 percent GST, which is unfair. As far as the overall Budget is concerned it has more focused on boosting the rural economy, which is appreciable.
Budget will benefit the entire economy in the long run- Arora
Pharma Industrialist KD Arora, Managing Director of Instant Remedies says that it is a great decision to made PAN card and Aadhaar card interchangeable for filing tax returns. Arora said, now business establishments with annual turnover more than rupee 50 crores will need to offer low-cost digital modes of payments, it is a remarkable move by the government. He also welcomed the decision to levy corporate tax at a lower rate of 25 percent from companies with turnover up to Rs 400 crore. KD Arora believes that budget has the vision and will benefit not just the pharma industry but the entire economy in the long run.
Truly a Jet Budget for Real Estate Sector- Mittal
'It is an amazing budget for real estate sector. Additional tax deduction of Rs 1.50 lakh on interest paid on home loans taken up to March 2020 will benefit the real estate sector in a great way," says Ashish Mittal, Managing Director of Royal Garden Premium, Chandigarh. The government has increased the tax deduction benefit against interest on home loans for affordable housing, with a value of up to Rs 45 lakhs by 75 percent, earlier it was two lakhs and now it is 3.5 lakhs, it is truly a jet move for real estate, he added. He believes that after this announcement, it is highly expected to attract fence-sitters back into the market, within the financial year 2019-20.