Relocation of Wildlife for the Construction of the Noida International Airport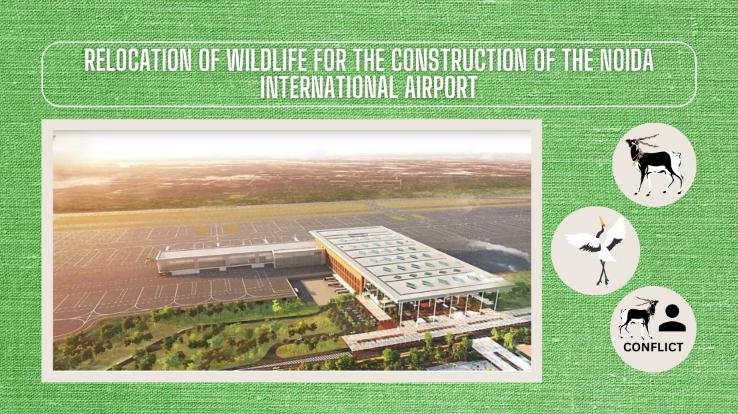 The ongoing construction of Noida international airport faces yet another obstacle after starting its construction in 2021. First, it was clearance issues, and now the construction company is facing the problem of ongoing wildlife intrusions. The major wildlife species found around the airport area are Indian Blackbuck, Nilgai, Jackels, wild cats, and the Sarus crane. The operator of the Noida airport, Yamuna International Airport Pvt Ltd (YIAPL), sent a letter to the state authorities requesting that wildlife be taken away from the project site as the animals hinder construction. This is the fourth letter from Feb 2022 to the local authorities by the construction agency. In the letter, the YIAPL CEO Christoph Schnellmann wrote, "Since full-fledged construction started at the site with manpower and machinery, it has affected the habitation of the animals. The presence of wildlife will also impede the smooth and unhindered progress of construction activities".
---
Measures Proposed:
The biodiversity action plan prepared by the WII, Dehradun, will be executed by state-concerned authorities.

The Aviation Authority will ensure that the WII regulations are implemented smoothly.

A new survey will be undertaken in order to carry out the evacuation strategy.

The state forest department has proposed the construction of an animal rescue and rehabilitation centre with a budget of Rs 5 crores and an area of around 5 hectares.
---
As per the WII report, the two keystone species that reside in and around the airport area are the Blackbuck and Sarus crane. In the survey of 1,334 hectares area, 258 blackbucks were reported, while 76 Sarus cranes were recorded in independent sightings. DFO Srivastava said, "The Forest department would conduct a fresh survey to ascertain the exact population of the wildlife around the project site for carrying out an evacuation plan". In addition, Yamuna Expressway Industrial Development Authority (YEIDA) CEO Arun Vir Singh had promised to provide all ground support for it.